Career and Business Coach for Women of Color and Allies

What if you had a business or career aligned to the life YOU want?
Spoiler alert: You don't have to do what other people do just because it's what works for them. If you want to reach your definition of success, we do that here.
At Elaine Lou Coaching, we guide women of color, and allies, who've established themselves in leadership and executive roles to create a holistic life so they can lead without sacrificing their well-being. 
We're creating a movement empowering you to embody your values while leading teams, sustaining culture, doing less, and living more. While working together, we'll do the deep inner work and design systems that support and sustain growth while prioritizing a life led by fulfillment and self-trust.
And all you have to do is just be you. I'll be here as your guide, holding you accountable to your long-term vision.
PS. Why can you trust me and my team? Apple News featured me as one of the top 5 business coaches, LA Weekly awarded me as the #1 thought leader, and LinkedIn recognized me as a Top Communication Voice.
This is a Filipinia (butterfly sleeves) dress made
by Vinta Gallery. I am a proud First-Generation
Filipino American.
Hey Legacy Maker! I'm Elaine Lou Cartas. I help heart-led, high performers create a legacy defined by their own terms.
You've already established yourself in a leadership or executive role, whether that's in your own business or a successful career. You know what you want and have a proven method of success. Now you're looking for support to navigate the challenges that come from success. My team and I are here to create the space for you to hold conscious conversations with your team, implement holistic leadership, and prioritize a life led by fulfillment and self-trust.
You can grow your business that is a true reflection of your values, and not a carbon copy of the latest trends.
We work with consultants, service based businesses, architects, dog trainers, human resources, nonprofit consultants, jewelry designers, marketing consultants, c-suite executives and many more to design a business and life that grow with them.
Some of our clients are coaches who already did start a career coach business. Perhaps you are an executive coach or life coach. Regardless if you have a coaching certification or not, we help you become a coach charging your worth.
We work with established business owners who already have a product or service that they believe in, but may need support in creating a more aligned lifestyle overall. 
Maybe you're in an identity crisis and want the support and accountability to fully honor yourself and your legacy.

Maybe you have a habit of going into auto-pilot mode and "just doing" because it's what's worked so far. 

Maybe you fall back into the strategies that have worked for making money, but not so much for peace of mind or the lifestyle you desire. 
Let's change that, together.
You can start by subscribing to my newsletter
I do this for my family.
I'm a proud first generation daughter of immigrants. My family immigrated from the Philippines. I'm creating my dream businesses because I want to honor the generations who came before me who sacrificed so much so I can have a life of choice.
The picture from left to right: This is a pic of my dad, his mom (my Nana/grandma), and me. My Nana is holding a pic of her dad (my great Grandpa).
My business is dedicated to generations before me who gave me this privilege, this life of choice — to serve WOC and allies in their businesses and careers.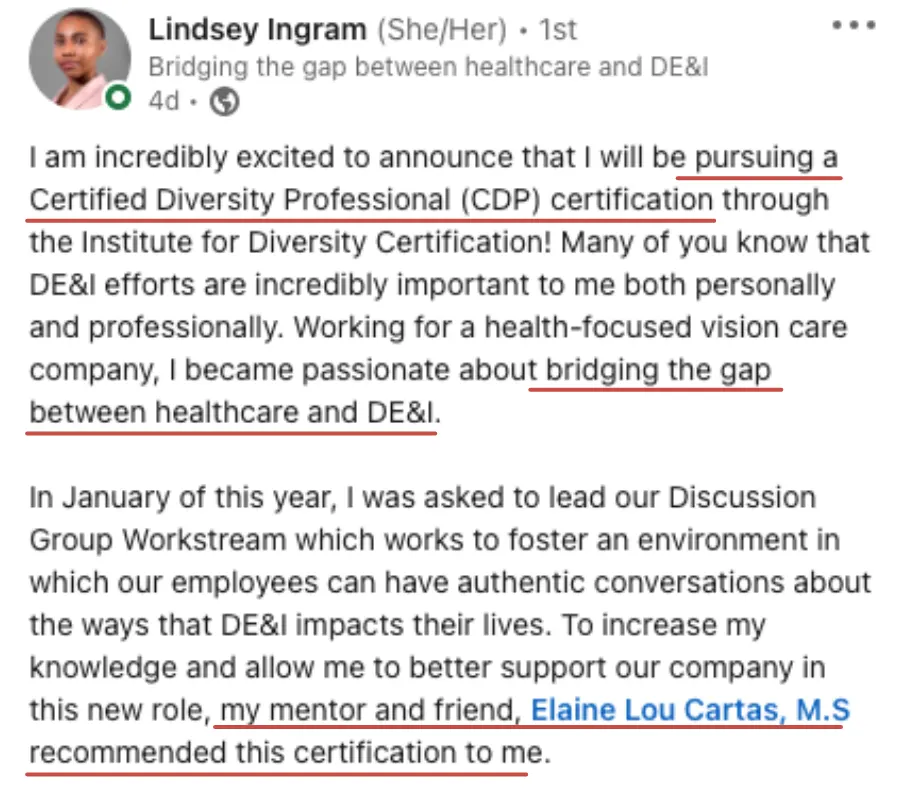 How Nicole went from $500/month to $200k in 2020!
"Elaine helped me to focus on what brought me joy instead of getting distracted with shiny objects. After focusing on my group program and working on making it better, now half of my new clients come from referrals."
How Danielle 2x'd Her Revenue While Pregnant + Worked Less
"What was helpful in [Elaine's program] was connecting more with my own intuition in my business."
How can you create a life and business aligned to you?
Through our Color Your Dreams® transformation, we uncover the legacy you are meant to create.
We don't look at what other successful people have done, we look at your values and how they best support your community.
In fact, we create businesses that are less dependent on or even independent of social media and are focused on creating relationships. My clients have 50%+ of their revenue coming from referrals and renewals instead of doom-scrolling and comparing themselves to people on a different path and with different lived experiences.
By understanding yourself from the inside out, we can scale and sustain the business and life you deserve.
This is the approach that my clients will follow in no particular order depending on your current situation, lived experiences, and what makes the most sense for you.
This process is adaptable to meet where you are, and there's no pressure to do it at any timeline that doesn't honor you.
Our intention for this Color Your Dreams process is that you stay true to your personal legacy, while my team and I hold you accountable to your vision.
22-minute Podcast Episode About the
Color Your Dreams Approach®
Want to see if it is a good fit to work together first?
Schedule a 30 minute Legacy Business and Career Review
✋🏻 Hold up! Wait a minute!
You just got to the end, Legacy Maker!
Before you go to another page, sign up for my free, weekly Color Your Dreams Newsletter where I dish the latest business tips, career secrets and legacy advice!
✋🏻 Hold up! Wait a minute!
You just got to the end,
Legacy Maker!
Before you go to another page, sign up for my free, weekly Color Your Dreams Newsletter where I dish the latest business tips, career secrets and legacy advice!